As football continues to grow across Queensland, facility improvements are needed to meet the demands of the growing player base, including the the upgrade of many football facilities to accommodate both male and female players.
The collaboration between Ausco Modular and Football Queensland supports the growth of football by offering the design and delivery of building solutions that improve the quality, access and condition of football facilities across the state.
The Wide Bay Buccaneers were the first Football Queensland club to benefit from this partnership in 2018 with a 44x14m clubhouse delivered in just 20 weeks from contract signing to handover. The facility, manufactured locally in one of Ausco's two Queensland-based factories, includes multiple unisex compliant changeroom facilities with cubicle showers for player privacy, public amenities, meeting rooms, storage areas, umpire and first aid rooms, a kiosk and spacious deck areas for pedestrian access and spectator viewing. Hear more about the project here.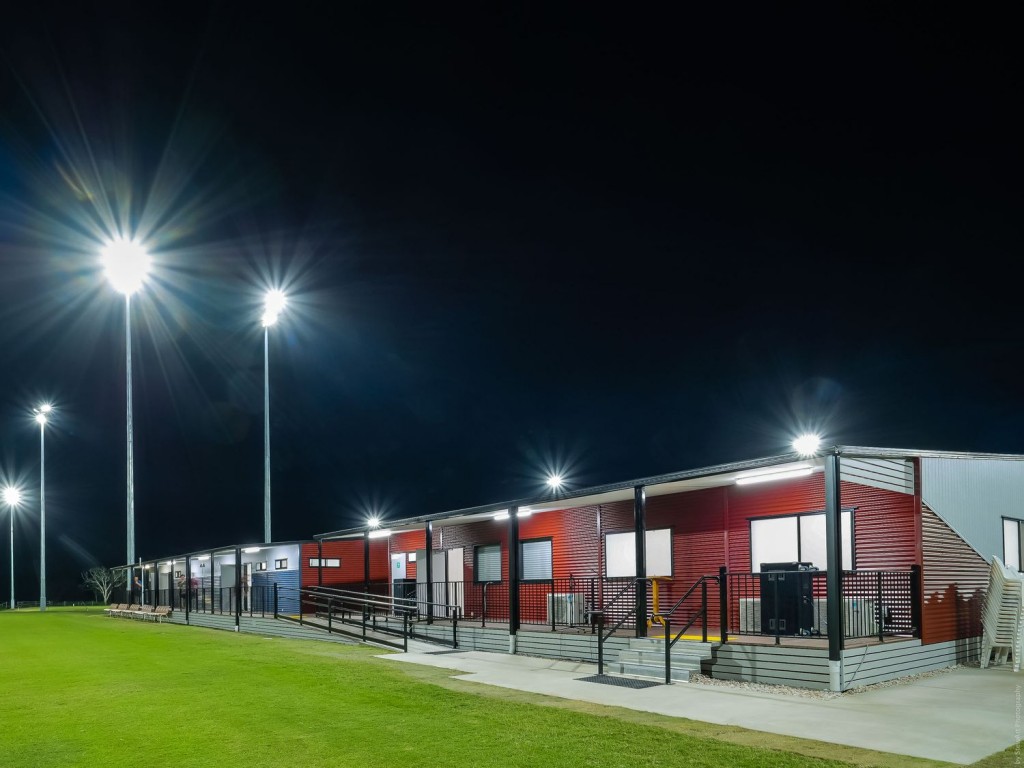 The modular clubhouse and and changeroom facilities home to the Wide Bay Buccaneers in Hervey Bay.
Have you wondered how modular construction works? The building modules are constructed off-site in one of Ausco's quality controlled factories in parallel with initial site works and are then craned into place on site over 1-2 days. This greatly reduces the construction timeline, therefore buildings can be on site within 20 weeks in comparison to up to 12 months with traditional on-site construction.
Modular buildings require minimal ground works and little space beyond the built area of the building, preserving playing fields during the build and minimising disruption to your club and the neighbouring community.
Rochedale Rovers Football Club based at Underwood Park in Brisbane are the next Football Queensland club to benefit from new modular facilities provided by Ausco. A visually appealing clubhouse, including unisex compliant changerooms and amenities, referee room, gymnasium, first aid facility, storage space and more, are currently being installed on site and will be ready soon for club members to enjoy. 
Check out what the facilities will look like below.
Get in touch with us today