The North Queensland Stadium project in Townsville will deliver a $290 million centrally located, 25,000 seat multi-purpose stadium that will be ready in time for the commencement of the 2020 National Rugby League season. 
The project will maximise employment and business opportunities for the people in Townsville and the North Queensland region which is especially significant following destructive flooding which impacted the city in February 2019.
Managing contractor Watpac, one of Australia's leading construction companies, and contractors required necessary site facilities to begin the two-stage development that is expected to engage with more than 2,000 people across the design and construction phases.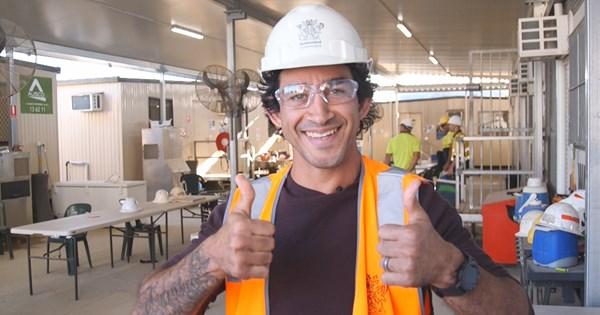 NRL legend and Townsville local, Jonathan Thurston, tours the progress of the NQ Stadium project.
Ausco Modular's local Townsville Hire branch have provided several buildings which have been on site since the commencement of the project mid-2017 and are expected to remain in use post-completion of the stadium for the construction of further surrounding facilities. 
Temporary Ausco buildings supplied include a number of 12x3 lunchrooms, two first aid rooms, a 12x6 meeting room, offices, amenities and more.
A key objective of the project is to foster job growth in Townsville. A statement from the Queensland Premier Annastacia Palaszczuk nearing the completion of the project noted that local subcontractors had completed almost 92 per cent of construction hours, exceeding Watpac's target of 80%.
Furthermore, Watpac's initial Indigenous participation goal of 6.6% has almost doubled to 11.9%, equating to more than 122,065 hours undertaken by the Indigenous workforce. 
Ausco Modular's Reconciliation Action Plan supports this initiative by building relationships and raising awareness - both internally and externally - to ensure there is a shared understanding and awareness around cultural diversity and inclusion in the workforce and community.