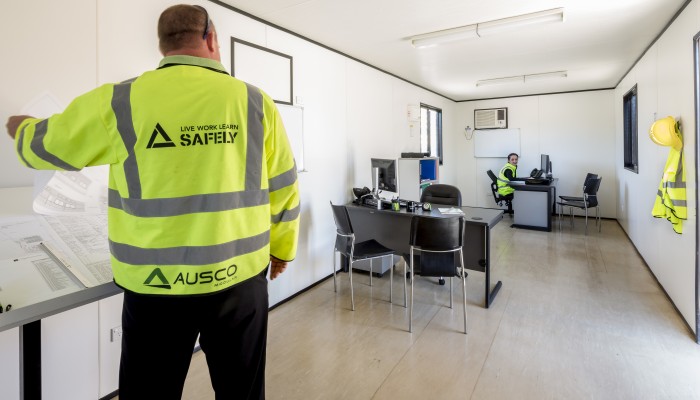 5 Portable Building Add-Ons to Kick Start Construction Projects
At Ausco, our first priority is supplying the temporary space you need, configured exactly to your specifications, delivered, and available to use from day one. As the industry leader, we have the largest fleet of quality portable buildings and an endless array of add-on options, and a team of temporary workspace experts.
Do you have everything you need to be ready to work from day one? Read our list of five essential items recommended to help kick start any project:
Lunchroom necessities – By creating a dedicated onsite lunchroom, complete with all the essentials, you are providing your team with a space to take a break, refuel and get back to being productive on the job site. A few of the ancillaries we offer include fridges (both bar and full size), table and chairs, pie warmers and microwaves.
Office set-up? No problem. Clerical chairs, partition walls, desks, mobile draw units, sink counters, and mini boilers are all available.
Hygiene is trending. Ausco has partnered with Rentokil to bundle some essential solutions to help keep your team clean and healthy. This add-on includes regular servicing conducted by a technician. View these here.
Custom stairs and landings - Our steps and landing modules are specifically designed to match perfectly with every building in our fleet.
With 16 branches around the country, we can help you now. Contact your local Ausco team on 13 62 11 or submit a quote request online.