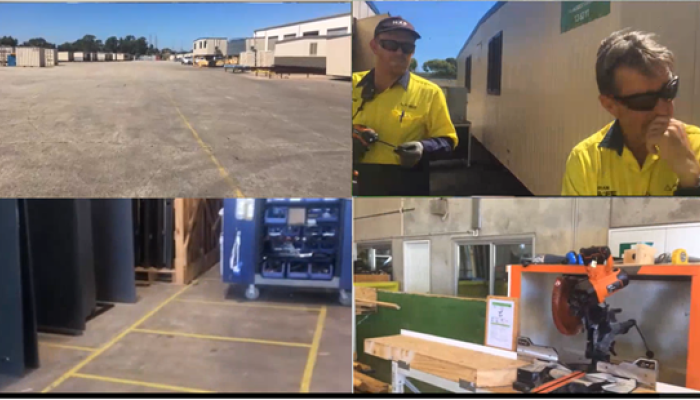 Safety Series: Virtual Safety Inspections
As one of Australia's largest construction companies using modular technology, we are committed to providing a working environment that aims to control exposure to health, safety, environmental and quality issues.  We believe that the process of identifying, assessing and controlling risks and hazards which may affect employees, contractors and visitors is fundamental to our external and internal success.
Follow this Safety Series to learn more about how Ausco continue to raise the bar in safety standards across each of our sites.
Virtual Safety Inspections
COVID-19 has not only impacted so many people but has forced businesses to think differently about the ongoing safety of their workers. Ausco Modular has taken up this challenge with the introduction of Virtual Safety Inspections via recorded, live events on Microsoft Teams. In fact, since June 2020 we've completed over 30 virtual inspections in every state & territory, and more recently in Portacom sites throughout New Zealand.
The value of these inspections is primarily the ability to touch base with our operational leaders across the business to see what help they might need to improve safety in their regions. It is also a great opportunity for senior leaders to confirm our critical risks & controls are being implemented in our operations.
Each region is equipped with the necessary tools, known as Gimbals, to make inspections easy and efficient. Every inspection is recorded and all actions are entered into our reporting systems for follow up. Feedback from all sites has been positive with operational leaders enjoying the opportunity to showcase their operations and commitment to safety.