To meet the challenges of a growing player base accelerated by the success of the women's football league, Ausco Modular and SANFL have collaborated to create female-friendly changerooms and facilities to meet every requirement of the AFL Preferred Facility Guidelines. Our objective is to design purpose-built facilities for the needs of the community from a design, quality and cost perspective.
The lower build cost, significant time-savings and end-to-end project management make Ausco Modular sporting facilities perfect for clubs where administrative and playing resources are already stretched.
Blyth-Snowtown Football and Netball Club (BSFNC) was the first club to build an Ausco Modular facility, with a high specification design that meets the AFL Preferred Facilities Guidelines making them perfect to support player needs from all sporting codes. Particularly important to BSFNC was the ability of their new facilities to provide safe and private changing areas to female and multicultural participants, allowing them to attract more players to the club.
The facility includes two unisex football change rooms, a netball changeroom, an AFL-standard umpires' facility, storage, public toilets, and a canteen. From contract signing to handover, the project was completed in just 19 weeks. The project was awarded the 2019 SA/NT Parks and Leisure Australia Community Facility of the Year award.
Click here to watch the Snowtown Sports Broadcast video series to hear what the club, coaches and players had to say about their new modular facilities.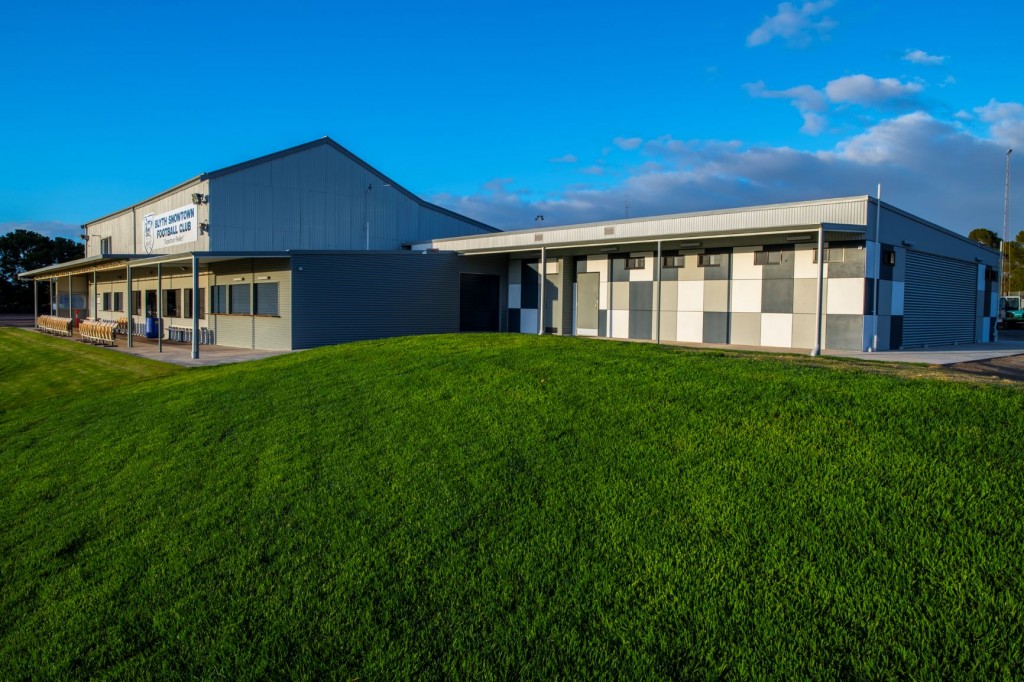 Blyth-Snowtown Football & Netball Club.
Have you wondered how modular construction works? The building modules are constructed off-site in one of Ausco's quality controlled factories in parallel with initial site works and are then craned into place on site over 1-2 days. This greatly reduces the construction timeline, therefore buildings can be on site within 20 weeks in comparison to up to 12 months with traditional on-site construction.
Modular buildings require minimal ground works and little space beyond the built area of the building, preserving playing fields during the build and minimising disruption to your club and the neighbouring community.
Check out the time lapse video below to watch BSFNC's new changeroom facilities delivered to site in just 20 weeks.
Considering modular football facilities for your club?